THE STATUTORY CONTROL of rents charged by landlords began as a temporary measure during the building shortage of the First World War. Furnished lettings, however, were excluded from regulation under successive Rent Acts until 1946.
The BBC recording presented here (catalogue number 822508) provides a short sample of the proceedings at the Paddington and Marylebone furnished premises rent tribunal, the second of its kind to be established in London. The recording was made on 27 June 1946.
The tribunal was chaired by Major David Graham Pole, then aged 68, whose voice we hear throughout. The catalogue describes the tribunal's business as comprising:
a case concerning furnished rooms in two houses in Monmouth Road, W.2., the rent for which were reduced as a result of the hearing.
The voices of at least two other men are heard, presumably those of the tenant and the landlord, or a representative of the landlord. One figure taken into consideration is an annual salary of £500. The national average salary in 1946 was around £370, but £500 a year may have been closer to the average for London. The rents for the two rooms are eventually fixed at 21 and 20 shillings a week. These would have accounted for around 10% of a gross annual income of £500.
In contrast, average private London rents in 2014 of nearly £17,000 a year approached 45% of the average tenant income of £37,800 (source: HomeLet).
The proceedings sound humdrum and unhurried. The reverberation of the voices and the occasional sharp clack of an object being put down or moved somewhere suggest an uncarpeted, high-ceilinged room: the sound-signatures of a place where decisions were made.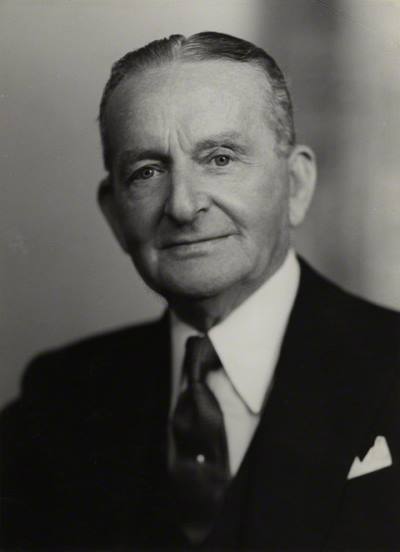 The above photograph of Major David Graham Pole is reproduced under a Creative Commons licence from the National Portrait Gallery. Pole was brought up in Auchencairn near Dumfries before training a solicitor. He fought during the First World War in the Northumberland Fusiliers and stood as a Labour Party candidate in three general elections, finally being elected as the MP for South Derbyshire in 1929. He was also a member of the esoteric Theosophical Society.
The catalogue notes as an aside that Major Pole himself later appealed to have his own rent reduced, but wasn't successful. He died in 1952. At the time of writing, a studio flat is on offer in Monmouth Road for £975 a month.
Recording © copyright BBC. Audio digitisation and restoration by the London Sound Survey. Many thanks to BBC Worldwide for granting permission to reproduce this recording here.